Today was planned to be a simple, peaceful day of printing work. I had hoped to do the final impressions on the last batch of the Ito Jakuchu image, and Tsushima-san was planning to do another impression (or more) on the new year presentation print. But neither of us was able to get our work done properly, at least this morning. Two visitors 'intruded'.
The first was 'someone' who came by yesterday afternoon for a very quick visit - too quickly for me to grab my camera. But he came again this morning while I had the webcam running, so I quickly turned the camera to point out the window as he strolled by ...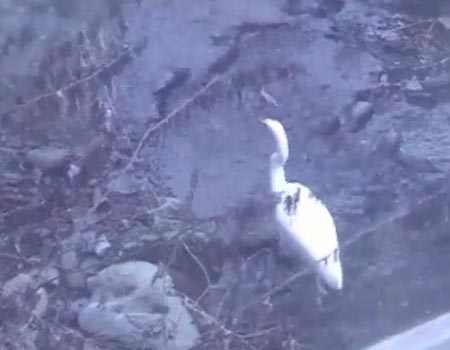 I'm not exactly sure what this is, beyond that it is a 'heron' type of bird. I sometimes see a similar one (but grey) and I might guess that would be an egret, but I think this white one is probably a heron.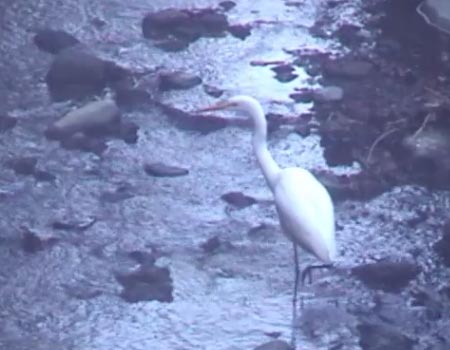 I have learned not to even bother trying to go outside to take a proper photo. The instant I turn the doorknob and begin to open the door, no matter how quietly, he is off. These photos are snaps taken from the preserved webcam footage. If you want to see him walk by, I have saved the video clip over at my Ustream channel.
As for our second visitor ... if you have watched that video, you will have heard her (little) voice, as she talked to her mother ...

[Long item has been trimmed at this point. The full blog entry can be viewed here]