It's been a very busy week here at Mokuhankan, but unfortunately there aren't a great many photos that I am able to show you ...
Last Monday saw the first day of 'work' of a new printer trainee, and he worked steadily over the next few days under my supervision, and actually turned out some very interesting results. He took to it quite naturally, first making one of the designs for our kakegami wrapping paper:

That worked out so well that I pulled some blocks off the shelf for one of my Surimono prints, and tossed them at him. After two more days of work, he had produced a stack of a dozen or so of them: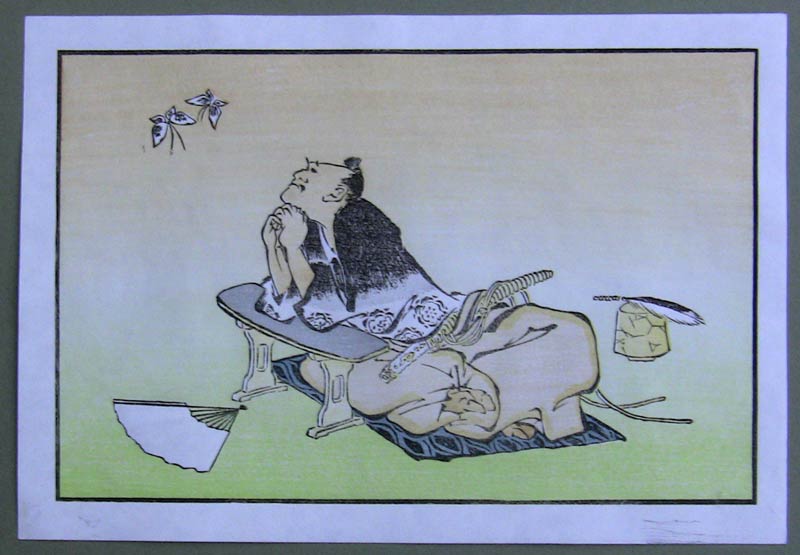 Unfortunately, there is another side to the story. I don't want to invade his privacy too much, so will simply say that although his printmaking abilities seemed to be just what we are looking for, he and I didn't really make much of a 'match'.
By the end of the week, it was clear to me that we weren't going to be able to get along. If ... if we had a larger workshop here, with more staff, I think he might have been able to fit in, but because we are so few in number still, a new person really affects the 'dynamic' of the mood and relationships. I was pretty torn which way to go, but ended up taking the 'safe' option, and let him know that there was no place for him here.
(I'm headed downtown in the morning, to visit a couple of other workshops, in the hope that one of them might be able to find space for him ... It's not likely, but I kind of have to try, I think ...)

[Long item has been trimmed at this point. The full blog entry can be viewed here]