I have been trying to contact Ayesha Vemuri by email, to no avail. Ayesha, if you are still receiving baren messages and get this, please contact me off list. Thanks.

~Gayle Wohlken
Exchange #50 Coordinator

I recieved my city of the world print and am thrilled. It is "more"
everything than I expected. I was also thinking one big plexiglass frame if possible. Thanks to everyone for making this happen. I hope if there is another puzzle print I can help print. Taking care of parents this year didn't make that possible. Would love to meet more Bareners, Thanks Maria. Ruth

Message deleted -- accidental repeat of Message 2
Digest Appendix
Postings made on [Baren] members' blogs
over the past 24 hours ...
Subject: Arts of Japan series : case construction part 9
Posted by: Dave Bull
We're getting closer to the 'end' of the long process of making the first batch of these storage cases; we've seen any number of photos of the main workbench, with the cases changing shape bit by bit each time. Here are a couple of recent versions: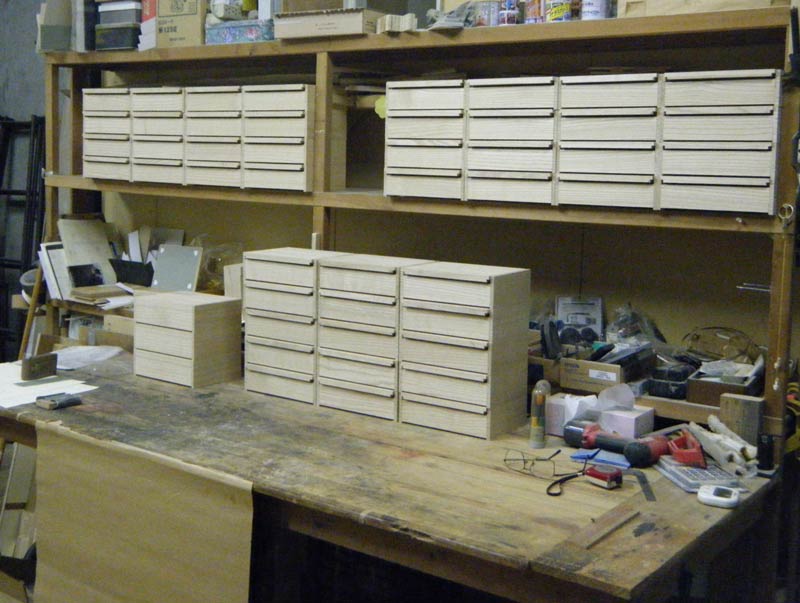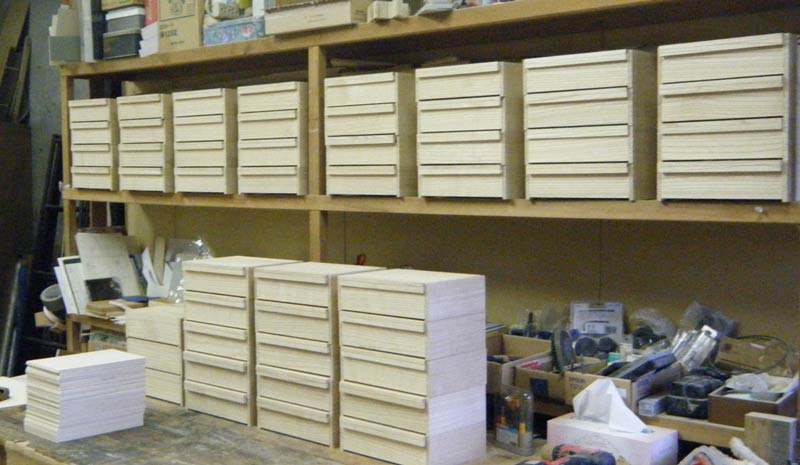 (entry continues here ...)
This item is taken from the blog Woodblock RoundTable.
'Reply' to Baren about this item.
Subject: Texture of Being: Relief Prints in Seattle
Posted by: Annie B
Some of my work can be seen starting this week in the upcoming show "Texture of Being" at Cullom Gallery in Seattle. Curated by Brian Lane of Print Zero Studios, the show opens Thursday May 3, 2012 with a reception, 6:00 - 9:00 p.m., and features work by 12 artists who work with relief printmaking (linocuts and woodcuts).

This Facebook page for the event has more information. Thanks, Brian, and congratulations on what looks to be a great show!
This item is taken from the blog woodblock dreams.
'Reply' to Baren about this item.
Subject: Once in a lifetime chance!
Posted by: Dave Bull
Well, once in ten years, anyway!
A new 'item was added to the Mokuhankan catalogue today, and here is the text from the explanation page:
"The prints on this page are all ones that were originally issued as part of the 'Hanga Treasure Chest' published by Dave in 2005. At that time, the series was available by subscription only - in a full set of 24 prints. 200 sets were produced, and it was very well subscribed at the time, has sold steadily as a 'back number' subscription since then, and is now nearly sold out (just a few sets are left at time of writing). The blocks are still in very good condition, and as time permits they will be re-printed to produce prints for this Mokuhankan catalogue. (Three of them have already been issued that way - the Hokusai Carp, the Autumn Bonsai, and the Spring Fuji).

But now that Dave's series is 'history', it is time to clean out his drawers. In order to make 200 copies of any given image, more than 200 sheets go into the printing stack of course. There will always be some spoilage during a print run, and as it is impossible to gauge how many sheets will come out properly, around 10% extra are put in the stack. The spoiled ones are tossed out upon inspection, but there are always some perfectly acceptable prints 'left over' - over and above the 200 needed for the 'edition'.

So here they are. This . . .
[Long item has been trimmed at this point. The full blog entry can be viewed here]
This item is taken from the blog Mokuhankan Conversations.
'Reply' to Baren about this item.
Subject: Year of the Dragon
Posted by: Pistoles Press
What better than a dragon to get me carving and printing again? Here is a shot of the block I am carving for my year of the Dragon postcard exchange. I've had this block of shina for a while and it seems appropriate for this occassion. I can't lie about it: Knife sharpening is one of my least favorite aspects of doing moku hanga. I finally made myself sit down and assess my knives and most of them now are back in good shape. I've forgotten what a joy it is to sit and carve and watch my sketch appearing in a block of wood. Later, I can write about what a joy it is to watch my drawing come to life as a print.
This item is taken from the blog Pistoles Press.
'Reply' to Baren about this item.
Subject: "Familiars" at the Paquette Gallery
Posted by: Sherrie York
With David's help I ticked one more thing off my pre-travel to-do list today: We hung the show! This afternoon we installed Familiars at the Paquette Gallery at the SteamPlant here in Salida. Because I'll be out of town the reception won't be until Friday, June 1, but that doesn't mean you can't stop by and take a look before then.


Another inch to the right, please.

About the show....

Familiar, n. In European folklore, familiar spirits (?familiars?) are supernatural entities believed to assist witches and cunning folk in their practice of magic.

Salida, Colorado printmaker Sherrie York finds her best relationships develop on foot. Inspired by almost a decade of wandering trails throughout Chaffee County, the woodcuts and linocuts included in ?Familiars? represent places and creatures York knows well? and that she likes to believe know her, too.

The natural world is replete with wonders and relief printmaking, whilst not precisely magic, certainly has its moments of mystery and inexplicable surprise. From iconic waterfowl to intricate tangles of fallen leaves, the familiars haunting the Arkansas River valley inspire York to carve a place for herself in the landscape.
This item is taken from the blog Brush and Baren.
'Reply' to Baren about this item.