Hi,
I am Bonnie Baker from rural Nova Scotia Canada. I am a fairly new
hand printer of woodblocks, lino and anything that sits still long
enough to be inked. Because of where I live, I am pretty much self
taught. It does involve much stumbling about. I joined the forum in
late 2011 and am so appreciative of all the information, encouragement
and kind words of baren members.

I am looking for advice on using Japanese paper with water based Akua
intaglio inks. I tried the inks with okawara and with kozuke because
I am interested in printing on both sides and letting the patterns
intersect. The problem I have experienced especially with the okawara
was a halo of oil bled outside of the image area. Is it. I was
thinking it may have to do with the amount of sizing in the paper but
I am just guessing. Has anyone else experienced this? Is there a
better transparent paper that I could be using?

Thank you
Bonnie

Bonnie Baker
www.bonniebakerstudio.com

Bonnie,
Are you using the akua kolor inks that are very liquid in the tall bottles? If so, you probably will not have the bleed. This ink has 10 times the pigment of the intaglio inks and little binder in it.

If you are using the more solid ones that say "Intaglio" on them, this is the cause of the bleed, the oils in them will bleed out on occasion.
If you leave them out on a slab with extender or trans base in them, they will eventually separate and sort of slide to the edge and even fall over the edge if there is enough ink.. Are you rolling the ink on? I suggest that you add some magnesium carbonate to the inks to stiffen them and take up some of the oil...that might help. Even if you add the trans base to lighten them, you can add this to make them stiffer. Sort of like adding flour to cake batter...it will still be a cake, but the texture will be different.

The sizing is partially to blame, but think it is the binder in the inks, probably soy oil, that is causing the problem. Write to Susan Rostow at www.waterbasedinks.com and ask her for advise. She is a great gal and really helpful. She might have other ideas on how to solve this.
My best to you
Barbara

I'm wondering about materials that the Grosvenor School used. Through internet searches I've found out that they used Mulberry paper. Does anyone know what kind of printing ink thaey used...did they use paint to get the transparency?
Thanks for any info!

Thanks, Brad! The "defiant bunny boy" arrived in all his glory. My year-of-the-rabbit is, alas,
still deep in its burrow but hopefully a sighting will happen soon.

Best,
Ray

Digest Appendix
Postings made on [Baren] members' blogs
over the past 24 hours ...
Subject: Arts of Japan series : case construction part 11
Posted by: Dave Bull
Here we are with the final entry in the series showing the construction of the cases for the 'Arts of Japan' series. This isn't the last of the actual construction work - as we have only finished 70-odd cases yet - but from here on in it will simply be a lot more of the same.
The last step in the actual woodwork stage was of course finish sanding (this is what kept me busy during the entire weekend that Fujii-san was here doing her recent printing training):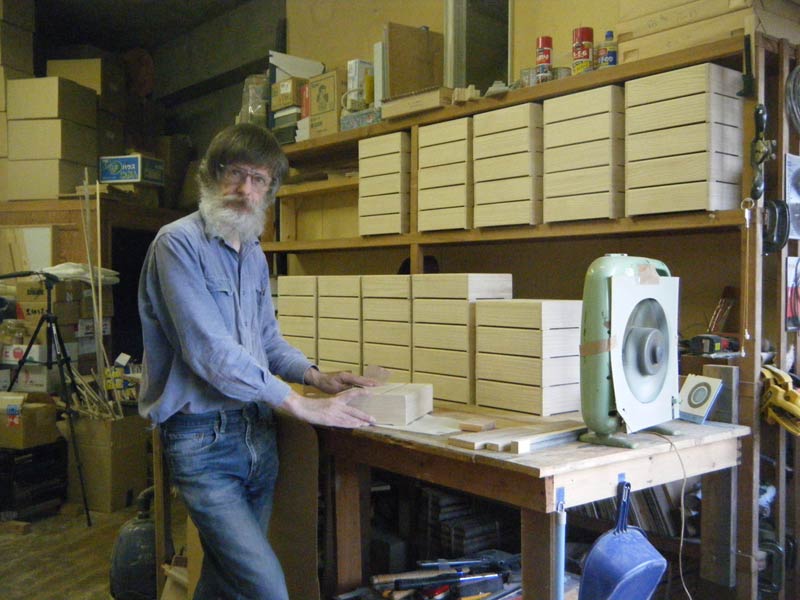 The cases then went downstairs onto a temporary shelf/platform in the new space next door (we haven't got a 'name' for that room yet ... we'll have to see what people start to use ...):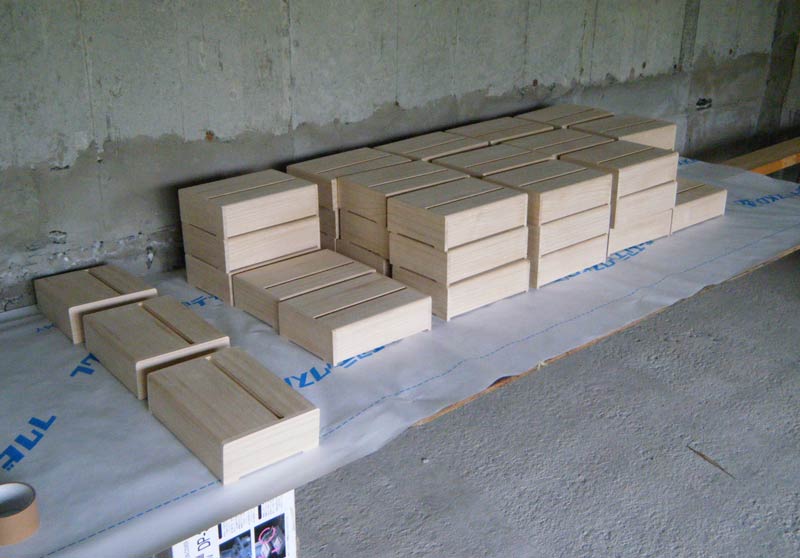 (entry continues here ...)
This item is taken from the blog Woodblock RoundTable.
'Reply' to Baren about this item.