Today's postings
[Baren 45511] Re: Australian woods (Jan Telfer)
[Baren 45512] Baren Member blogs: Update Notification (Blog Manager)
>
Hi Jenny,

The jelutong wood you are referring to is an Indonesian "packing case"
wood. It is very soft and in places there can be soft sappy holes
which are at times hidden in the wood block. So be careful when using
too much pressure as in a book press as these areas may make the wood
"spongy"or very soft and unless your cutting tools are extremely sharp
the cutting lines are difficult to get crisp. Even so it is fun to try
it, like all woods. You never know this jelutong may suit your carving
style.

Salvatore Zofrea - Appassionata woodcuts (book by that name- ISBN
0-7313-8919-0) to whom you refer is Italian but migrated to Australia
at the age of nine uses a number of thick woodblocks. Jelutong is
one, magnolia and kauri pine he uses with no specific preference.
His blocks are mostly 45 x 60 cm in this series all in black bold oil
based ink outlining each of his subjects in a fine white line although
his overall finish resembles his sketches with multiple lines.

Margaret Preston's South Australian Printmaker came from a painting
background and turned to woodcuts later in her life preferred to cut
huon pine blocks but even later also used the back of masonite boards.
Huon pine which is softer wood from Tasmania is no longer available
unless at great expense or retrieved from the bottom of lakes or rivers
nowadays. Margaret's woodcuts were all printed in black and
handpainted. Sometimes she used to paint on the blocks before printing
but never used multiple registrated blocks for printing different
colours even though she did go to Japan to learn more about woodcarving
and printing.

Try Jelutong Jenny you may like it.

Cheers,
Jan
Western Australia


> Thanks so much for your reply. I finally remembered what the timber
> is, and I got the Margret Preston thing wrong. I have seen a block
> of hers displayed at the state gallery of NSW, and it was pieces of
> end blocks glued together, the end grain carved and then printed.
> The timber I have is something called jelutung (uncertain of the
> spelling.)
> Another current Austratian printmaker named Salvadore Zefrais (speling
> uncertain,) prints from this, but just from the surface. Jelutung
> is very commonly used for carving in Indonesia. It is very light,
> and apparently very quick and easy to carve, something I have not
> done as yet. It is also used in making moulds. I thing it comes from
> a rainforest somewhere, I mention this with great guilt. Thanks again
> for your input.
> Jenny
> From: jdryrie@hotmail.com
> To: baren@ml.asahi-net.or.jp
> Subject: [Baren 45487] RE: New Baren Digest (HTML) V59 #5993 (May 19,
> 2012)
> Date: Sun, 20 May 2012 10:02:48 +1000
>

Digest Appendix
Postings made on [Baren] members' blogs
over the past 24 hours ...
Subject: Arts of Japan series : print #2 - colour separations
Posted by: Dave Bull
The main job today was working out the colour separations for this print. I think there will be four pieces of wood, using both sides of course, and some of the faces having multiple 'zones'. I think there will perhaps be about 14 or 15 impressions in all.
Here are the kyogo-zuri, the sheets printed from the keyblock on which I have coloured in the appropriate zones for each colour block.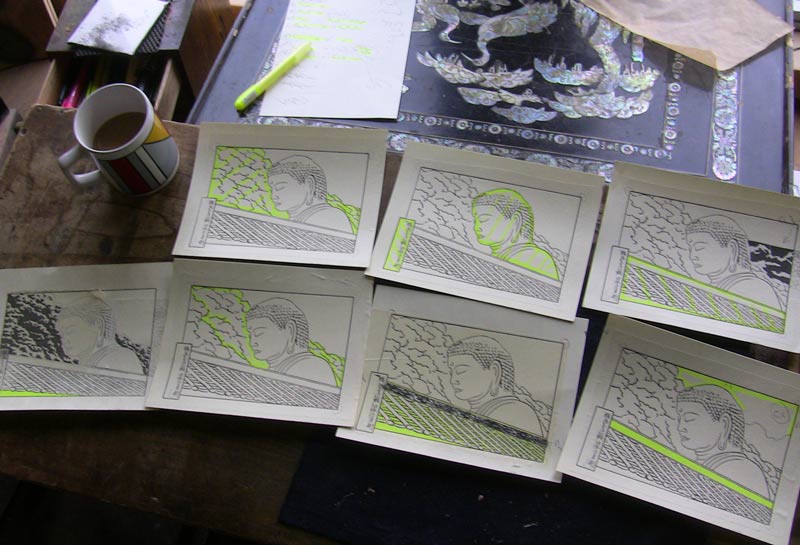 The tea cup is a 'placeholder' for the eighth sheet, which isn't worked out yet. This will be the shadows on the face of the statue, and getting those right is not going to be a trivial task. So as usual ... 'later'!

Over on the Mokuhankan Conversations blog today, there is a post showing this morning's work - together with new trainee Ayumi-san. We had the Webcam running, and I also recorded part of the session. The final segment of that video - which you can see on the Conversations page - shows me pasting down one of these kyogo sheets.

(entry continues here ...)
This item is taken from the blog Woodblock RoundTable.
'Reply' to Baren about this item.
Subject: Carving and Printing (Dave and Ayumi)
Posted by: Dave Bull
Lots and lots of work done here today ... both on my own printmaking, and on Mokuhankan training.
Young trainee Ayumi-san (who we 'met' in the previous post) was here for her first full day of work, and she had the place to herself today, as everybody else was off busy with family stuff. I gave her another of the 'Fairy Tale' block sets to work on, and then returned to my own carving work.
She dug right in: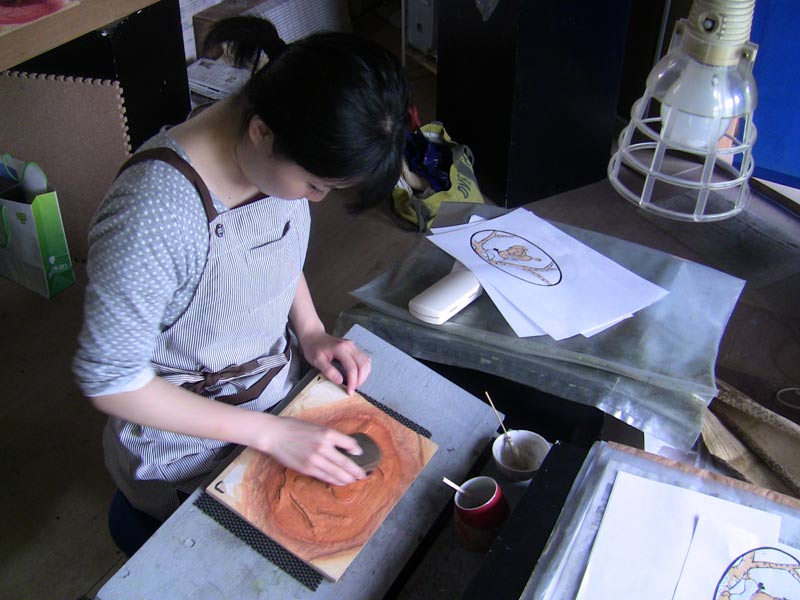 (entry continues here ...)
This item is taken from the blog Mokuhankan Conversations.
'Reply' to Baren about this item.