Excellent Knights, Harry, especially the foot soldier with sword.
Wonderfully rich facial expression in such a little piece of space!

Now we can all be like Mike (Lyon, that is), well in a small way...
Check it out:
http://www.rockler.com/product.cfm?page=31661
&utm_source=NL&utm_medium=email&utm_campaign=V2135
or the tiny url version:
http://tinyurl.com/89pyscr
:-)
Maria
[=o=][=o=][=o=][=o=]
www.1000woodcuts.com
www.artfestivalguide.info
[=o=][=o=][=o=][=o=]
Maria,
Only if we do very small carvings
8.7"W x 6.3"D x 2.48"H is the swing size of the cutter

I have the big models in my company and never once really thought about using them for this....
The actual beds on most of them go about 18x36... but you would have to allow for clamping in the block...
maybe 15x30...and of course we charge about $75 an hour to run them...so not cost effective in any way...
But I have seen some nice things done with a plasma cutter.
This is too funny, how many prints would you need to sell to pay for this little number??? Quite a few.
my best
Barbara

Welcome Krista, I love the reductive prints, sometimes I make multiple block reductives. For a singular block, I like to outline in sharpie marker, ensuring that the original drawing is not lost in the process (learned the hard way) -- I also have a plan, which can be done with translucent paper and colored pencils or markers, Each color is depicted on each layer of paper, simpatico with the layers you anticipate making with your block/print. At first, limit your layers to 3 or less. There are many ways of aligning your block and paper, I register by having the paper face up and the block face down, then, if you wish to flip them and print on the press or by hand this works fine (best with a smaller block, like you have). There is also the consideration of transparents and opaques, and layering orders.
Enjoy the process and make it your own. (I have a few examples on my website, www.reneeaugrin.com, if you wish to take a look). I'll look forward to seeing one of your prints in an upcoming exchange!


Harry, thank you for your postings with your latest works and the adventures that go with them!


My blog did not get picked up last time, it's mostly about my work on the Silk Road book, there are six small (4" x 6") landscapes woodblock landscapes.


My best to you all!


Renee
still cool and cloudy Oregon, perfect printmaking weather!

Digest Appendix
Postings made on [Baren] members' blogs
over the past 24 hours ...
Subject: Everybody's busy ...
Posted by: Dave Bull
It seems that Mondays are always going to be one of our busiest days here at Mokuhankan - everybody has their own particular schedule (kids activities, etc.) but Monday seems to be a real 'work' day for everybody.
Ayumi-san arrived first today, so she got the bench in the center of the room. She's working on the Hokusai reproduction. In the far corner is Ishikawa-san, printing one of her large Chinese images: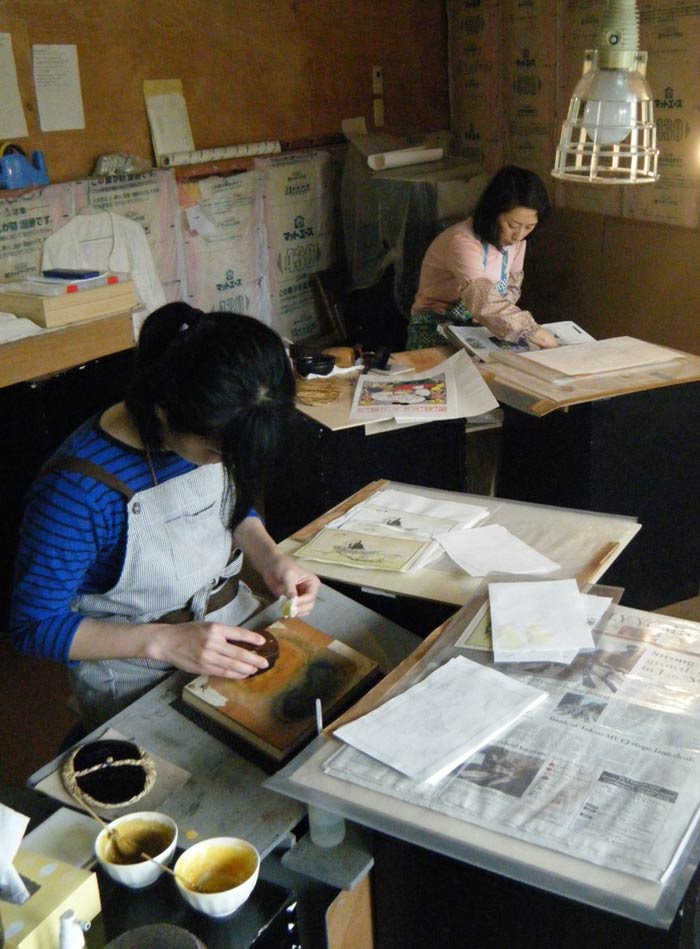 This is one of the blocks that Ayumi is printing - after doing my own original edition of around 200 sheets, and now her edition of 30 or so, it's wearing in nicely. (And still capable of printing thousands more copies, as long as we treat it carefully ...)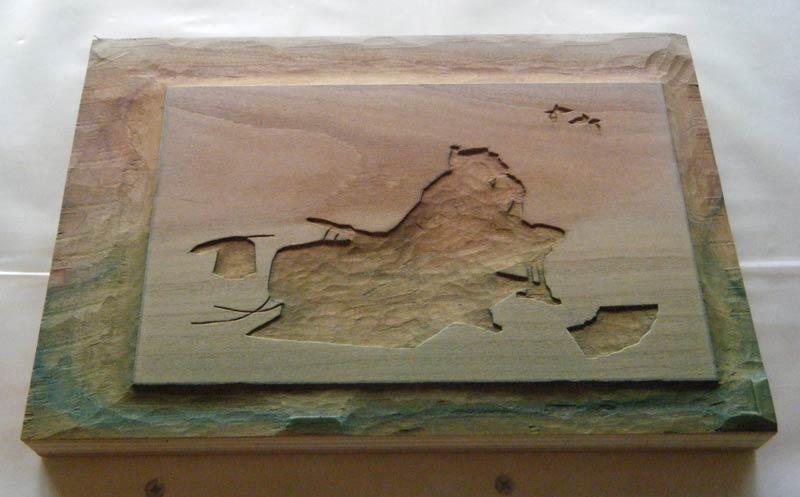 And this is how far she has progressed so far. Very nice work on this gradation!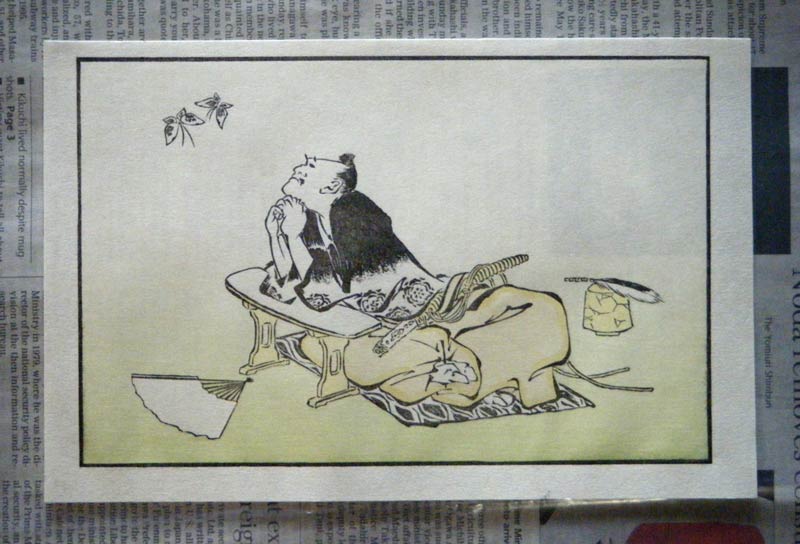 (entry continues here ...)
This item is taken from the blog Mokuhankan Conversations.
'Reply' to Baren about this item.